Testimonials & Featured Clients
Praise from U.S.A. World Teams for Canine Agility 2010 - 2017
David and Ria travelled with the U.S.A World Agility Teams to national and international competitions as the Canine Physical Therapists for the team. They served as the Official PT's for Agility at these events: AKC, IFC (International Federation of Cynological Sports), WAO (World Agility Open), & EO (European Open).
What is most impressive is that David and Ria were specifically chosen each year by the individual team members of the U.S.A. World Teams to serve as the Official PT's for each event.
Ria Acciani was selected as Official Therapist for the IFCS US Agility Team, and traveled to Bristol, England with the Team in 2010. Ria returned to England with the Team in 2011, South Africa in 2012, Spain in 2013, and Hungary in 2014. Ria has also traveled with the AKC World Team to Luxembourg, Italy, Spain, and the Czech Republic. She also traveled with the WAO World Team in Italy and England.
Praise from Individual Clients and their Sporting Canines
Thank you for a truly wonderful and educative seminar! I LEARNED so much! Although I've been doing exercises with Boss, I learned I wasn't doing the correct ones to target the muscles that he needs conditioned. My "program" was not balanced, I wasn't doing appropriate progressions and I was in a rut! Your material enabled me to develop a plan for Boss. Thank you!
Lillian Russel & Boss
At seven years old agility is still Whimzy's favorite form of exercise. Unfortunately, just doing agility doesn't cut it for a high performance athlete! Ria Acciani helped us create a fitness plan to keep Whimzy healthy. The plan focused on Whimzy's weaknesses with fun exercises for her and information for me on how to build up her muscles. We are four months into working with Ria — Whimzy's stronger than ever and I am happier knowing that I'm taking the best care of my teammate.
Kathleen Oswald
There's not enough thank you's for all your help and guidance to get Saoirse ready for Westminster. It was a race to the finish, but we made it and she won BOS! This couldn't have happened without your help. Many thanks from Saoirse!!
Kathleen Hickey and Saoirse ECH CH Classic Little Darling CGC
Ria and David have been working on my 3 border collies for the last 10+ years. They have been an integral part in my dogs' recoveries from multiple injuries including a chronic iliopsoas strain, medial shoulder syndrome, and multiple sprained wrists. Most recently, their use of shockwave therapy has made huge improvements in my 10 year old border collie with arthritis in her back. David and Ria's background in physical therapy and years of experience with dogs has made them well versed in canine anatomy, incredible at lameness assessment, and their manual therapy techniques set them apart from others in their field.
Lauren Blackson
DVM, CCRP
I have had the amazing opportunity over the past 13 years to have 4 of my dogs receive the very best care in the hands of Ria and David Acciani of Advanced Canine Rehabilitation. All of my dogs have been engaged in and continue to be involved in a variety of dog sports that require my canine partner to be in top shape to avoid injury. Effective early evaluation of potential physical issues, treatment of any limitations and guidance in home exercises is just part of what they do. They incorporate the latest treatment modalities available and share what they know.
Kim Secter
Piper & Ripley,
Maverick & Ranger from the Bridge
Here is NV's story.
On March 1, 2013 NV was diagnosed with Auto-immune Hemolytic Anemia. NV was my breed dog that was being specialed. He was out on the show circuit almost every weekend. I was devastated as most dogs do not recover from this. I worked very hard with the vets but I could not get the muscles back that NV had lost in his back legs. I started taking NV to see Ria. NV was taking a pain meds am and pm. In January 2014, Ria told me about 1-TDC! I said I'll try it and Ria sent me the first bottle (from ACR). Within 5 weeks NV was no longer on ANY pain meds. NVs muscles are getting stronger – I believe it's from the combination of 1-TDC and exercises from Ria. NV will be 8 years old in November.
Since NV was doing so well on the 1-TDC supplement, I started my 9 year old Siberian Husky, Bristol. Bristol is my agility dog and sees David monthly. I believe the supplement has helped with a faster recovery from weekly trials. Thus, allowing for more training. Bristol was in the 20″ finals at Westminster finishing third. Bristol also was in the 20″ finals at the NAC in Harrisburg. Bristol's registered name is: MACH4 Kunuk's Arctic Snow Blossom CD, RE, MXS2, MJB2, XF, T2B, CGC
Thank you for a great supplement!
Michelle
Super G
Super G had MSI surgery in June of 2018; initially I expected his recovery to follow the 'standard' protocol. Setback after setback occurred; and in 2019, on the advice of a friend, I finally reached out to Ria. I had worked with David and Ria off and on over the years at dog shows, but as I live in Maine, I wasn't sure I'd be able to get in to see them enough to help us. Ria worked hard to find time to fit us into her schedule, particularly as we were coming from so far away. I was at my wits end and so depressed with Super G's lack of progression that I frequently lost hope. However, each time I made the trip to NJ to see Ria; she patiently encouraged me and stiffened my resolve to KEEP trying. His first official show back was July of 2020; 2 years and 2 weeks after his surgery…. He is now back to jumping 24" and strong and sound; I can't thank Ria enough for all her dedication, encouragement and education that she gave us!
Anne Andrle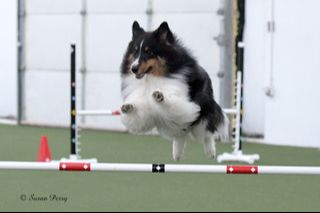 The story of Coal
Approximately two years ago, Coal (a now a five-year-old Sheltie) was initially suspected to have Intervertebral Disc Disease (IVDD) by our vet. The pre-diagnosis came after Coal achieved his first double Q in AKC agility, and then began hanging his head, refusing weaves and jumps, and would walk out of the ring during training sessions and trials.
He was examined by a specialist at our local university vet hospital. The specialist found no evidence of IVDD, but suggested it was a soft tissue injury and recommended a PT program to rehab him. He completed the eight-week program, which included laser therapy, underwater treadmill, and general balance and flexibility exercises. After another couple months of at-home exercises, I took him back into training classes. After about another month, he returned to competition. At his first trial back, he received a double Q! Yay!
Disappointment soon followed, though. During subsequent training sessions, he began to hang his head, avoid weaves and jumps, and he wanted to leave the ring. Back to the specialist we went, this time requesting an MRI and full neuro examine. He received both, and both were clean. No evidence of IVDD. Again, we did another eight weeks of PT.
This time, after the PT, as recommended by a friend, I reached out to Ria. Immediately, during the first session, I felt so encouraged and hopeful. Ria identified very specific issues with Coal's shoulder and his hind quarters, and she assigned a PT program individually designed to strengthen Coal and get him back to training and competition.
We faithfully did the exercises, some every day and others three or four times a week. Within the first two weeks, I began to see and feel improved flexibility, where before there was tightness and resistance. After several more weeks and additional and more challenging exercises, Coal made amazing progress. You could just tell by his gate and the way he carried himself that he was feeling better. I really didn't know how much discomfort he had to overcome, until I began working with Ria. Coal started holding his head high, his walk and trot had a natural bounce to it, and he initiated play, which is something he really didn't do prior to our working with Ria.
Today, Coal's discomfort is gone, he enjoys training every week, and he's competing again! In fact, he has two double Qs to his name.
The best part of it all is that Ria left us with a solid maintenance program to use every day and before and after training sessions and competitions. I can keep him healthy and happy, in an out of the ring.
With enormous gratitude to Ria,
Tom Miller (and Coal)